–
With both sides suffering disappointing results in their last W-League fixture, both teams will be looking to make a return to the winner's circle.
The last time the two sides met in Melbourne was in October 2015, where Perth secured a 2-1 win thanks to a 69th minute winner from skipper Sam Kerr at Broadmeadows Valley.
Assistant Coach Jessine Bonzas believes that despite the outcome in the Hunter Valley two weeks ago where the team narrolwy lost to the Jets, the team has made a bright start to the season.
"We just need to convert our chances," she said.
"We're breaking down teams really well and creating a lot of opportunities,
"We just need to finish them and bury games," Bonzas added.
image: http://images.performgroup.com/di/library/Perth_Glory/bf/af/sam-kerr_2w4a25svatr17l9xeaxza6i9.jpg?t=-2143202936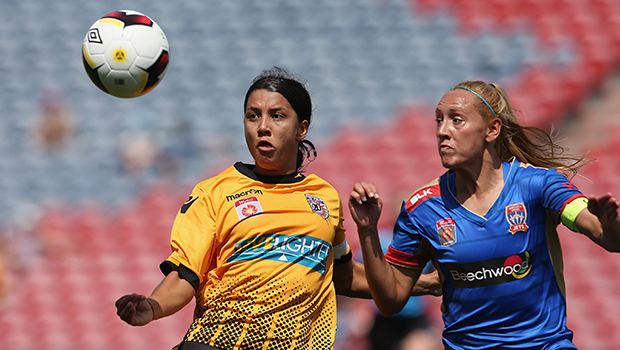 Bonzas also noted last week's bye came at the perfect time.
"It's given us an opportunity to have a reflection on our last three performances,
"Then coming into the next game it's allowed us some extra time for tactical preparation," she added.
Bonzas insists the girls are going into the Victory match-up "itching to play" after the week off and should prove to be a great contest.
Key Battle: Alyssa Mautz & Vanessa DiBernardo v Samantha Johnson
image: http://images.performgroup.com/di/library/Perth_Glory/ec/cc/chicago-red-star-trio_s7m6uju1wjs614sg36qoe1di3.png?t=-1118917824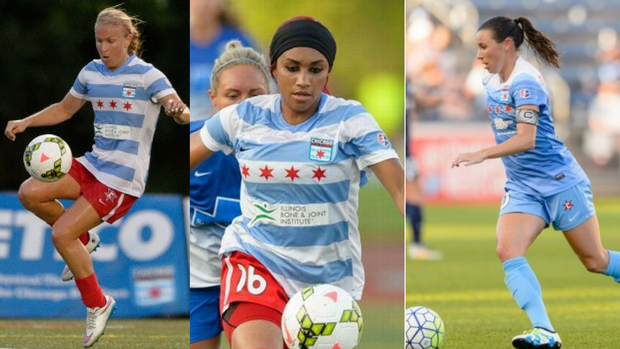 Chicago teammates Alyssa Mautz and Vanessa DiBenardo will be squaring up with another fellow Red Star in Victory's Samantha Johnson. With all three players playing crucial roles within their team and being so familiar with each other's style, it will be an intriguing battle between the trio.
Star: Nikki Stanton
The American midfielder has been impressive throughout the early stages of the season. Stanton was the shining light in a disappointing result against Newcastle, with her dynamism and determination all on display.
One-to-Watch: Natasha Rigby
The defender has been training superbly over the last fortnight, with Bonzas praising her efforts. "Natasha has really stepped up I think, she got a little bit of time at the end of the Newcastle game and looks to be in good form."
MATCH DETAILS:
Sunday, 4th December 2016
Melbourne Victory v Perth Glory
Venue: Lakeside Stadium
Kick-off: 1:00PM (AWST)
Referee: Rebecca Durcau
Assistant Referee 1: Joanna Charaktis
Assistant Referee 2: Danielle Anderson
Fourth Official: Andrew Meimarakis
SQUADS:
Perth Glory Squad: 1. Melissa MAIZELS (GK), 2. Sarah CARROLL, 3. Kim CARROLL, 4. Alyssa MAUTZ, 5. Patricia CHARALAMBOUS, 7. Nicole STANTON, 8. Shawn BILLAM, 9. Rosie SUTTON, 10. Vanessa DIBERNARDO, 13. JAYMEE GIBBONS, 14. Caitlin DOEGLAS, 17. Natasha RIGBY, 18. Gabby DAL BUSCO, 20. Samantha KERR (C), 22. Arianna ROMERO
Ins: 17.Natasha RIGBY (promoted)
Outs: 6.Carla BENNETT (not selected)
Unavailable: Nil
Melbourne Victory Squad: 2.Alexandra NATOLI, 3.Alex CHEAL, 6.Annabel MARTIN, 7.Lia PRIVITELLI, 8.Ayesha NORRIE, 9.Natasha DOWIE, 10.Christine NAIRN (c), 11.MelindaJ BARBIERI, 13.Laura SPIRANOVIC, 15.Adriana TARANTO, 16.Samantha JOHNSON, 17.Gulcan KOCA, 19.Rachel ALONSO, 20.Bethany MASON-JONES (gk), 22.Caitlin FRIEND, 25.Kariah WHITE, 30.Emily KENSHOLE (gk)
**two to be omitted**
Ins: 22.Caitlin FRIEND (promoted), 25.Kariah WHITE (promoted), 30.Emily KENSHOLE (gk) (new signing)
Outs: 1.Bianca HENNINGER (knee – 4-6 weeks)
Unavailable: 4.Melissa TARANTO (knee – season), 14.Selin KURALAY (hamstring – 1 week)
– See more at: http://www.perthglory.com.au/article/w-league-glory-look-to-bounce-back-against-victory/1ow2tk7iwor031gfbq8r19cplf#sthash.GQqosvHb.dpuf
Read more at http://www.perthglory.com.au/article/w-league-glory-look-to-bounce-back-against-victory/1ow2tk7iwor031gfbq8r19cplf#hVEiOQIQBxPXPUOX.99